The derivatives market expects a disaster and can turn into debt, as the big bubble can be in front of our eyes.
The derivatives market expects a disaster of 2.5 quadrillions that will eventually explode, according to Von Greyerz of GoldSwitzerland, a Swiss fund specializing in large clients and gold. And the estimate is probably conservative.
Credit has increased dramatically through derivatives. All the instruments now issued by banks, pension funds, and equity funds, are all synthetic products, structured. There are no real underlying payments in almost anything. The national debt is over $300 trillion and several hundred trillion dollars in unfunded liabilities. Can this be compared with the global GDP of 80 trillion dollars, especially since all this money created has not created any value?
These derivatives will, at some point in the next few years, essentially turn into debt. The central banks will have to cover all the liabilities of the commercial banks, as we see now with Credit Suisse, the Bank of England, etc. This will generally happen. Whether they are called derivatives or called debt, they are the same thing. It will have the same effect on the global financial system, which of course will be a disastrous development. Derivatives markets were simply a way for financial institutions to create debt and not show it on their balance sheets. But in the end, everything will balance out.
When debt explodes, so will the assets financed by that debt. So, both sides of the balance sheet must collapse. The financial system will not survive in its present form. Central banks use only one kind of medicine, and that is more fictitiously printed money. The risk increases exponentially, and the situation will only get worse. This is all a dead end.

More specifically it is reminded as the chart shows, that except futures there are also options divided into two categories, the call and the put options which are considered as a buy and sell side of any trade respectively. Therefore, the put/call ratio is one tool that helps us to predict market behavior with lots of probabilities. The chart explains the fear or greed factor of this market behavior, so now the ratio is in a ''Greed'' mood.
The correlation of this chart though with the speech of Mr. Jerome Powel and the Open Market Committee on 2 November is very high, because, after the policy announcement by the Open Market Committee, which was interpreted by the markets as relaxation, Jerome Powell's aggressive speech followed. The initial "Fed statement", which pushed assets (especially shorts) higher, and in an extremely painful way, was followed by Powell's logic, which varied by giving pace to monetary tightening. As he rightly pointed out, what matters is the maximum interest rate, which will depend on the elements of inflation, which is persistent. Thus, tightening through the current rate hike cycle will prove stronger than expected.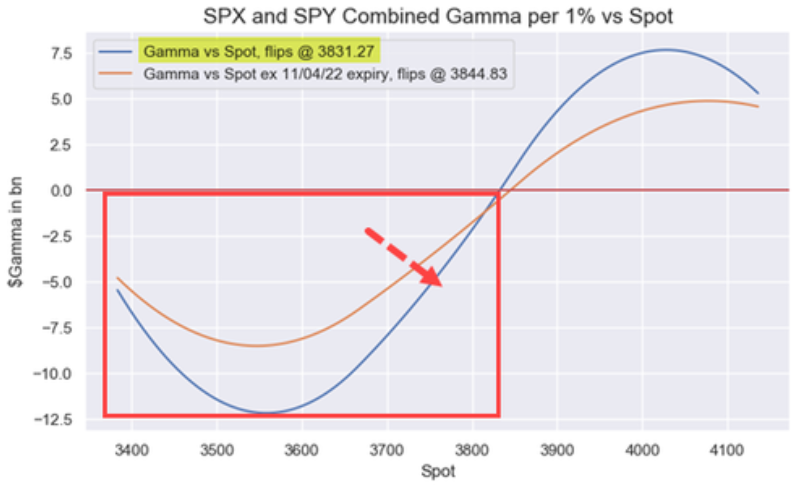 But there was not enough optimism for traders to "pay" for put options. Powell seemingly took away any reason for investors to buy stocks, but he didn't do enough to stoke more fear. The insignificant change in short bets coincides with little change in SG levels. Some positions did pay from 3,700 to 3,650 for the benchmark S&P 500, however, Gamma – the ''Greek'' estimation for the rate of change of the spot via future price – does not suggest that we are in "max put" positions yet.
Hence, there is a disaster waiting to happen,..
by Grega Horvat and Stavros Chanidis
Interested in FX market? Check our latest USDMXN chart. HERE